It seems fitting that the subject of the first
Orlando Beer Blog
post would be the brewery that bears the city's name. My girlfriend and I decided to check out
Orlando Brewing Company
on Atlanta Avenue and take the daily 6 p.m. tour and sample some suds. The building itself is a refurbished warehouse in an industrial section of town and isn't much to look at from the outside. However, there is a spacious outdoor seating and smoking area with picnic tables and an old school bus that has been painted over (for decoration I guess?).
The taproom is actually pretty impressive. It looks like something you'd see in any downtown bar and club district: spacious with a high ceiling; dark with cool mood lighting; plenty of tables; a fairly large bar; some dartboards; and of course a selection of OBC merch. I've been to many breweries over the years and most taprooms tend to be rather sterile and corporate, so it's nice to see a relaxed vibe for a change. I could see this being a nice watering hole for those that work in the vicinity, or a place to chill on a Friday or Saturday night away from the downtown crowd. They do have live music
and other typical bar events
pretty regularly, which isn't something you see at most brewery taprooms.
As for the brewery itself, it's rather small and cramped despite being only a 15 BBL system. The equipment definitely has a worn look, but I appreciate how the small scale makes it seem more "fine touch" than massive production breweries that range in size from 50-100 BBLs. Several of the beers they brew are bottled on site, though
I-4 IPA
and
Right on Red
bottles are contracted out to Florida Beer Company over in Cape Canaveral. Orlando Brewing seems more interested in making kegged beer rather than bottled beer, and considering that they don't pasteurize, that's not a bad approach.
Everything they make in-house is 100% certified organic which gives OBC a certain distinction as they're the
only
organic brewery in all of Florida, and pretty much the only brewery of their kind in the entire Southeast. The tour guide was quick to boast about this fact and talk about the evils of nasty chemical pesticides and GMOs and how none of that is used in their beer [side note: there is absolutely
no evidence
that organic ingredients are any
healthier or safer
than non-organic
;
pesticide actually can be
used to make "organic" foods
; and
GMOs are not the "Frankenfoods"
dopey fear-mongers like the
Food Babe
have made them out to be
].
Additionally, Orlando Brewing adheres to the
German Purity Law of 1516
, which means they use no adjuncts such as rice, corn or refined sugar in their beer or even flavoring adjuncts such as fruit and spices [another side note: the Reinheitsgebot was probably the world's first piece of
crony capitalist
legislation and was
originally intended to regulate bread production,
not beer. Why American breweries feel the need to follow this
outdated, unnecessary, and frankly dumb rule
is beyond me].
After the tour, we went back into the taproom and ordered a flight of their core eight brews in 5oz pours for $14 ($0.35 per ounce). Here's what we thought: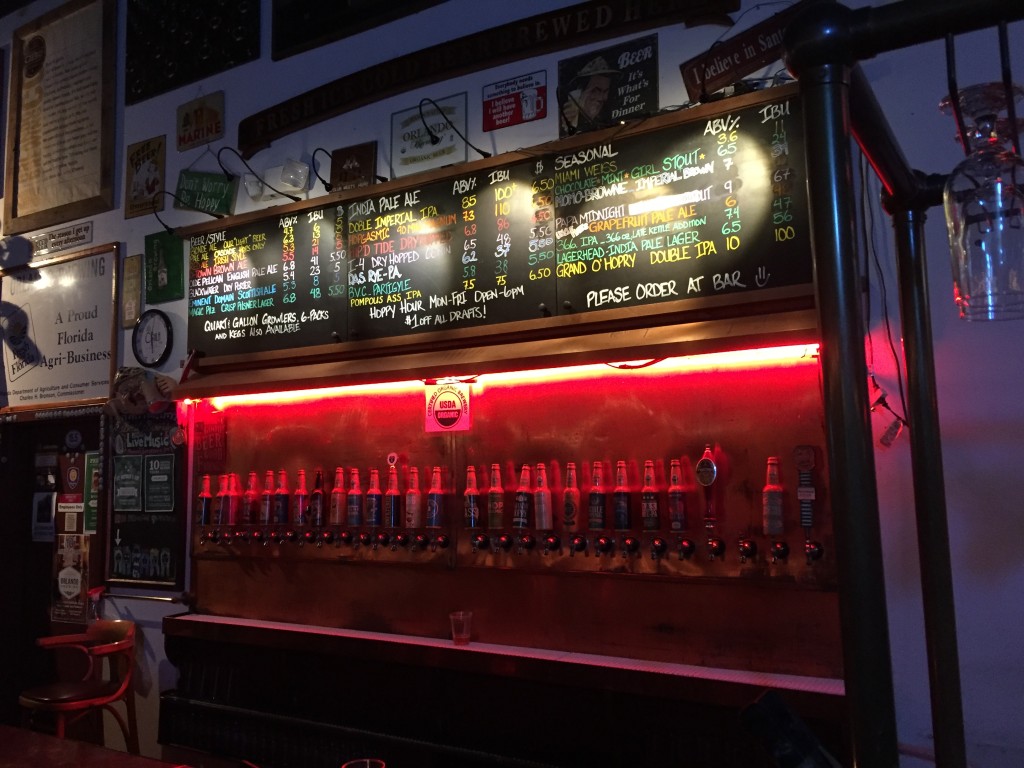 Organic Blonde Ale
: Usually, I find generic blonde ales to be… well… generic. This one wasn't especially great, though it did have a nice authentic malt taste. Much better than
the bottle I reviewed last month
. 3/5
Organic Pale Ale
: Not sure what this was supposed to be. Had a flavor akin to tea, but wasn't all that hoppy. More like an amber ale. 2.75/5
Right on Red!
: This is another beer I
reviewed out of the bottle
– which is a completely different style than the draught version. OBC calls this version an Irish Red, but really didn't seem to conform to that style very well. Rather dry and bitter and otherwise bland. The bottle is a standard American amber ale and is quite sweet (but again, only an okay beer). 2/5
O-Town Brown
: Take an English brown ale and water it down and you've got this. Very boring and not nearly sweet enough. 2.5/5
Eminent Domain Scottish Ale
: Some sweetness, and a faint trace of smoke; otherwise unremarkable. 2.5/5
Olde Pelican
: Supposedly an English-style pale ale. No diacteyl, so it's probably not fermented with Ringwood yeast, but there's not much to taste here anyway. 2.25/5
I-4 IPA
: This was actually my third time trying this beer. I first
reviewed an old bottle
of it back in February. I was able to get a very fresh bottle a few weeks ago, so I
gave it a re-review
and it was pretty solid, but still far from amazing. The tap version drinks more like a pale ale as it's not bitter or hoppy enough for what I want and expect in an American IPA. 3/5
Blackwater Dry Porter
: Much like the Blonde Ale, this was better on tap
than the bottle
. Of all the beers we tried, this seemed most "to spec" for the style. But at the same time, it was quite mild and seemed to have a minty finish. My girlfriend noticed this as well. 3.25/5
After we sampled those beers, we realized there were still about a dozen left to try. However, since we weren't impressed with what we had we opted to get a mini flight of four 5oz pours for $8 ($0.40 per ounce).
Miami Weiss
: Described as a "lagered wheat," which is certainly an interesting concept. However, the final product looked like a milkshake and tasted like a very watery generic wheat beer. Some Bavarian esters, but not much of anything else. Nice try, though. 2.5/5
Magic Pils
: Pilsner has become one of my favorite styles in recent years and I was really curious to see how this would turn out since it's a difficult style to get right. I would describe this beer as a very Americanized pilsner; neither German nor Czech in style. The piney hops make it seem more like an IPL than a true pilsner. Still, it was probably the best beer of the day (for what that's worth). 3.5/5
Mo'mo-Browne Imperial Brown Ale
: This was certainly better than the other brown ale, but drank as a standard brown should. There's nothing really "imperial" about this one. Not bad. 3.5/5
Chocolate Mint Girl Stout
: I've yet to try a mint chocolate stout that truly tastes like Girl Scout Cookies or any type of candy. Much like the others I've had this was high on the mint and light on the chocolate. My girlfriend liked it the most and it was the only beer of the entire flight that was completely finished. 3/5
As you can probably tell, we weren't too impressed with the quality of Orlando Brewing's beers. My average score was about 2.81, which is not very good (anything less than 3.5 is pretty forgettable). I can't say this came as a surprise, though. Having talked to friends, professional brewers, and other
Orlando craft beer enthusiasts
, I heard no praise for the brewery and plenty of disparaging remarks.
All that being said, I wouldn't rule out another trip to the Orlando Brewing taproom (maybe we'll come back for the
10th Anniversary Party on April 7th
). I would like to try the rest of the beers on their menu. Most of them seem to be bigger, more complex brews which tend to be "harder to screw up" than the lighter, more generic styles we sampled. In fact, I would actually recommend OBC to acolytes and non-beer drinkers looking for something they can handle. These beers are pretty mild and light-bodied which makes them incredibly drinker-friendly for those without a refined palate.