Before I moved to Orlando, I began scouting beer bars and restaurants I wanted to check out. After asking new acquaintances on Untappd, RateBeer, Twitter and Facebook where I should go next,
The Gnarly Barley
seemed to be a popular choice. Now that I've actually been there I can see why.
This reminds me of many beer pubs I've been to around the country; it's cozy, homey, authentic and completely anti-corporate/anti-chain in every facet. It's more like something you'd see in Brooklyn, Philly or Boston instead of this suburban area near South Orange and Sand Lake. Located in what was once someone's house (I'm assuming) it's easy to miss from the road. Thankfully, it is bigger inside than it looks from the street. There are five or six tables and a bar that seats probably no more than a dozen people. Only three TVs, but that's okay because this really isn't a sports bar anyway. It's one of those quaint places that's difficult to label as simply a dive bar or college bar or sports bar or townie bar. It's just a cool little spot for people that like good food and good beer.
Speaking of which, I have to say I was quite impressed with The Gnarly Barley's tap selection: 16 draughts and one cask (which seems to be a rare sight these days). Mostly Florida-brewed suds on tap, many of which I wasn't familiar with. That's okay because if there's one thing I love about a beer bar it's just that: beer I
haven't
had a million times. Gainesville-based Swamp Head seemed to have a strong showing, and I was impressed to see a Prairie brew on tap as well. Weihenstephaner Hefeweizen is always a safe bet; and I suppose they keep Guinness at the top of the list just to have a macro on tap for outsiders (or maybe because it was just St. Patrick's Day).
Beer bars like this often let you choose your pour size of 4, 10 or 16oz; unfortunately, The Gnarly Barley doesn't really do that. Some beers come in 10 or 16oz pours depending on the strength, but flights of 4oz aren't on the menu. That's okay, because the waitress was more than happy to give us a free taster of anything we asked about. That's great service because it's literally "try before you buy."
My girlfriend Maggie decided to go with a pint of Bavik – a 5% ABV Belgian pilsner. Neither of us had ever had it before and it really impressed me as it was very flavorful and absolutely "to spec" as far as traditional guidelines go. I went with Prairie's "Ape Snake" – an eccentric brew to say the least as it's billed as a dark dry hopped saison with Brett. So it was part Black IPA, part Saison, and part Wild Ale. It really dazzled me.
I got the Buffalo Chicken sub [below] and it was great. Large meaty pieces drenched in plenty of blue cheese with fresh jalapenos to give it some bite. Maggie got the "BBLT" [above] which contains bacon, blue cheese, tomato and arugula ("delicious" was her one word review). No fries for sides here, but rather classic potato chips. I wound up getting a pint of Swap Head's Big Nose IPA; a hefty 7.3% hop bomb whose bitterness helped contrast the spiciness of my sub (and complement it, too).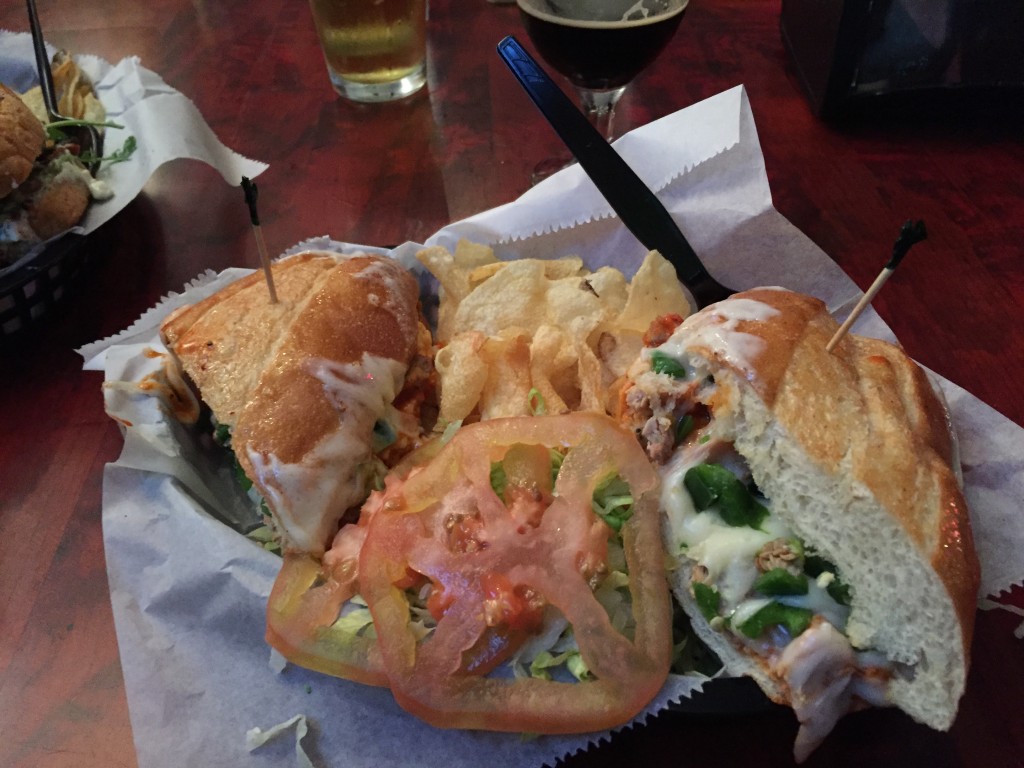 Though I didn't see it on the menu, we wound up splitting a large piece of chocolate cupcake for dessert. It was essentially a deluxe edition of a Hostess snack; decadent to be sure and totally worth all those empty calories
Between the two of us, the bill came to just over $40. That's actually a really great deal considering we had two entrees, three pints, and a dessert. We were impressed to say the least and the fact The Gnarly Barley has a customer loyalty program card (buy 10 beers and the 11
th
is on them), I'm sure we'll be checking off those other boxes sooner rather than later.