As you may have heard,
I recently moved to Lakeland
, so what better place to go for my first review of a local establishment than the brewery that bears the city's name:
Lakeland Brewing Company
. I actually went as part of a meetup of the inaugural meeting of
Lakeland Craft Beer Enthusiasts
.
My initial impression of the facility is that it's pretty gorgeous in appearance. It's either a newly-built structure or one that was completely refurbished. It's located across the street from
Lake Mirror
in a trendy section of the downtown area which makes it an ideal location. There's a large patio in front, a fairly large bar inside, and plenty of seating as well. The architects did a great job designing the look and establishing the atmosphere of this place. Call me a hipster, but it's trendy-looking and I like it
because
of that. It combines a vintage warehouse vibe with a modern look.
The only problem with going this route is that because it's industrial in style, the indoor ambience suffers. The floor is just a concrete slab, there are no curtains, the tables are hardwood as are the stools and chairs, which makes sitting for more than 30 minutes a literal pain in the butt. All this solidity causes the sound to echo and reverberate, so when the dining room gets busy it becomes very loud and you'll have to raise your voice just to speak to someone at your table. I'd recommend sitting outside if you visit here.
Lakeland Brewing is not a brewpub per se, though they do have their own kitchen and a decent menu of small plates and snack food they call nibbles, bites, and morsels. The food menu is bar fare at the core, but with an upscale twist. For example, I ordered the "L.A.keland Street Dog" ($8) which is a jumbo beef hot dog with all the fixings. It was tasty, but messy. This should really be eaten with a knife and fork, but the server didn't bring me any silverware. Other people in the group ordered the "Hunter's Plate" ($9) which in a little sampler of sausage, some Gouda cheese wedges, a few green apple slices and honeyed cashews. I split one of these with a fellow member of the meetup group and it was nice. Both of these food items were good, but seemed a tad overpriced to me. Then again, it's becoming difficult to find a menu with an entrée or appetizer under $10 these days (aside from a fast foot joint, that is).
Anyway, this is a brewery review after all, so let's talk about the beers. Here's the breakdown:
NOTE: For $8 you can order a flight of four 4oz samples. Pints and half-pints vary in price by beer.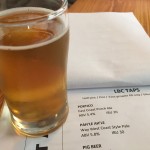 Portico
(5.4% ABV, 30 IBUS):
Described as an "East Coast Porch Ale" (whatever that means), this drank like a typical blonde ale every brewpub always has for BMC drinkers. It wasn't bad at all and worked well for what it was, though the
head brewer informed me
that it's actually a pale ale (in which case it's not a very good pale ale). I ordered full pint of this after I had sampled every beer in their lineup as it was the easiest-drinking beer I tried.
RATING: 3.5/5
Pah'le Ah'le
(5.8% ABV, 30 IBUs):
Billed as a "Way West Coast style pale" this was a bit more hoppy than the previous beer, though it didn't seem especially West Coast to me. Not bad.
RATING: 3.5/5
Pig Beer
(3.5% ABV, 16 IBUs):
I assumed this was some kind of lager,
but it's not
. Whatever it is, it's some kind of mild golden ale. Sessionable to be sure, but not quite as flavorful as the previous two beers.
RATING: 3/5
Damn it, Janet!
(6.8% ABV, 66 IBUs):
I actually tried a full pint of this red rye at Patio 850 on Monday and found it to be pretty decent. The red color was nice and it was plenty hoppy so it had some bite. Other members of the meetup group seemed to like it too, but one thing everyone noticed was that there was something off about the aftertaste.
RATING: 3.5/5
Acer Nook
(5.3% ABV, 24 IBUs):
If this were half as good as the description on the website, I think this would've been a pretty great beer. Unfortunately, it seemed to be infected or spoiled to me. It reeked of phenolic character; akin to the smell (and taste) of a hospital. Absolutely no wheat character at all. This was pretty much undrinkable. I don't know why they even had it on tap, it should've been pulled.
RATING: 1/5
One-Eye Revenge
(6.7% ABV, 34 IBUs):
Definitely the best beer in LBC's lineup. This is a mocha stout brewed with Black Onyx cocoa and Panamanian coffee and was the only memorable beer of the night. It was also the only dark beer the brewery had on tap. Coffee was prominent in the nose, but subtle in the palate. Some chocolate flavor on the finish, though I detected a slight diacetyl note as well. Perhaps it's brewed with Ringwood yeast? The brewer
didn't like my description
of this as slightly buttery.
RATING: 3.75/5
863 Sheets
(9.5% ABV, 87 IBUs):
No description of this other than simply "Double IPA," though I vehemently disagree with both of those words. There were virtually no hops in here as far as aroma and flavor and only slight bitterness. I ordered a short pour of it, but I could only get through half of that. Once again, the brewer resented my review and said the hops had indeed dropped off and that's why it's only $2 a glass so you can
"get drunk for cheap."
I just about fell out of my chair when I read that. Why is a brewer openly admitting that his beer has gone south and that you should drink it for the performance value rather than for taste? Most breweries would've taken it offline and replaced it with a fresher batch. Though that raises another question: DIPAs tend to be a one of the most popular styles of craft beer – why aren't kegs of this kicking quickly? Why is there old beer on tap at the very brewery that makes it?
RATING: 1.5/5
In retrospect, I think I was a little generous with my scores across the board. The median rating was 2.8 which is technically above average, but as a whole I would consider Lakeland Brewing's offerings below average. I'm not sure what accounts for the sub-par flavor as I am not a professional brewer and do not purport to be one. However, I have been drinking craft beer pretty seriously for about a decade and I can detect the standard flaws like diacetyl, acetaldehyde, dimethyl sulfide, oxidation, etc. The rest of the members of the meetup group all claimed to be beginners in the world of craft beer, but everyone seemed to find the lineup to be only okay as a whole. Everyone agreed the mocha stout was probably the best beer they had, but no one seemed to rave about it.
All complaints aside, I will say I still had an enjoyable evening with the meetup group and I did like the atmosphere and location of the brewery. The service was slow, but it was Friday at Happy Hour after all. I could see this brewery making some good beer if they brought an industry consultant in to give them some honest feedback. For beer lovers, Lakeland Brewing leaves much to be desired, but those looking for a nice spot to hang out and have a beer or two and some snacks, this is worthwhile.