We all know that Tampa is the beer capital of Florida, but there are plenty of breweries in the outskirts of the metro area. Some are worth the drive, such as
Two Henrys Brewing Company
of Plant City. This venue originally started as the
Keel & Curley Winery
, which was expanded into a brewery back in 2014. They also make a variety of ciders and have a newly-opened kitchen serving "upscale pub style food." Plus, it also serves as an outdoor event space. Man, this place has got it all, eh?
I arranged a meetup here for the
Lakeland Craft Beer Enthusiasts
, as several other members of the club said they had been before and had a good time. It sounded like an ideal place for our group to get together and try some brews, and sure enough it was.
My first impression of the venue is that it's quite large. In fact, the outdoor seating is much larger than the indoor tasting room. There was a band playing at the time, but oddly enough, nobody was sitting outside. I wonder if that's the Catch-22 of trying dine "al fresco" in Florida – it's so hot and humid that despite the plentiful sunshine, people would actually prefer to sit inside with the air conditioning.
Anyway, the tasting room is quite large, though very dark. There are actually three separate bars: one for beer; one for cider and one for wine. The beer and cider bars are quite large with plenty of seating and there are many hightop tables in the middle of the room. I noticed there were several servers and staff about, so no matter where you choose to sit you'll be attended to pretty quickly.
Naturally, I ordered a sampler flight of five 4oz pours ($10). Here's the rundown: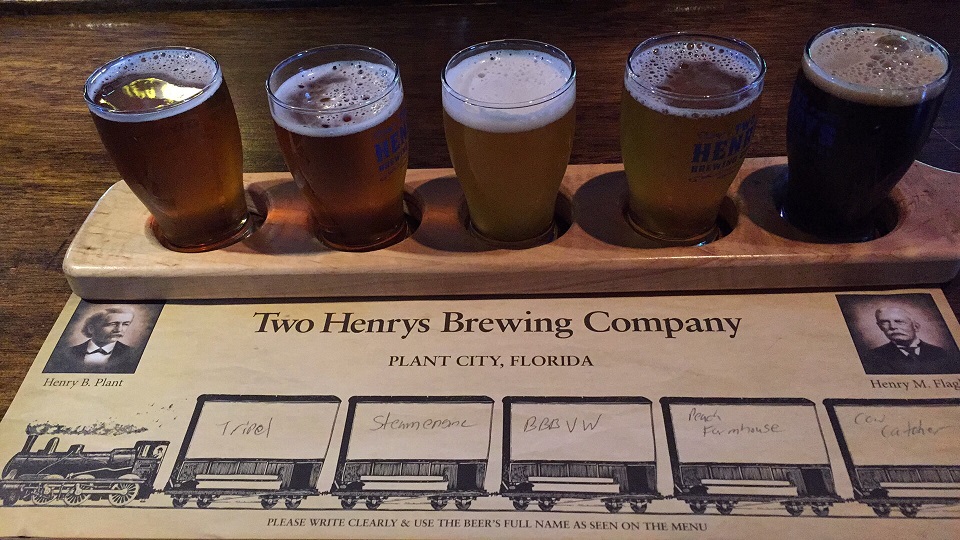 Belleview Biltmore Blueberry Vanilla Wheat
(5.3% ABV): One thing you'll notice about this brewery/winery/cidery is that they make a lot of fruit-flavored beverages, especially blueberry (they grow their own on site). Usually, blueberry wheat beers are pretty boring and/or faux-tasting, but this was remarkably good and genuine. Very creamy with a delectable combination of blueberry and vanilla. It's so smooth it's like it's on nitro. Two Henrys just started canning this so I may have to pick some up.
RATING: 4/5.
Ginger's Peach Farmhouse Ale
(4.9% ABV): I'm not usually a fan of adding fruit to saisons since the style tends to be tasty enough on its own (pale wheat ales, on the other hand….). This was pleasantly surprising since – as a good fruit beer should – it balanced the core style with the fruity additive. Peach seemed wholly authentic, not faux or overly sweet. It worked well as a bonus flavor. I'll bet this combo would be even better with a secondary fermentation with Brettanomyces.
RATING: 3.5/5.
Steam Engine Belgian Blonde
(6.7% ABV): Something seemed off about this one. It didn't have the usual Belgian esters; at least not to the extent that is normal for the style. Perhaps the yeast was stressed or fermented at the wrong temp, but this seemed a little dirty to me. Other members of the meetup group also made similar comments. I came back to it later when it had warmed up and it improved a little, but not to the point of being really enjoyable.
RATING: 2.5/5.
Belgian Tripel
(9.1% ABV): Much like the previous brew, there was something off about this one as well. It had more flavor than the blonde, and I found the esters to be much more pronounced. One of my fellow meetup members said he found a slight sulfur character in it. Personally, I think the beer was okay, but not as good as I prefer my Tripels to be.
RATING: 3/5.
Cowcatcher Chocolate Milk Stout
(4.9% ABV): I like it when breweries make classic styles well; it's actually a vanishing art form since so many American breweries are obsessed with making hoppy and wildly experimental styles. This is definitely what I would consider a "to spec" milk stout: roasty, sweet; well-balanced; smooth and sessionable. I was told by the lovely bartender Staci that cocoa nibs are added to it which gives it a slightly spicy/dark chocolate flavor. This would be something I'd buy in cans, too.
RATING: 4/5.
Roasted Jalapeno Blueberry Porter
(6.5% ABV): This was my first and last beer of the night. I actually had a small 1oz sample before the rest of the group arrived and I was delighted by the balance of blueberry, porter and jalapeno. After I finished my sampler flight, I wanted to try a 4oz pour of this again to see how it would hold up compared to the rest of the brews. To my surprise, it was just as good the second time around. The blueberry definitely is the dominate flavor; quite sweet but nowhere near cloying. Some light roasted malt with the jalapeno spice lurking in the background. The pepper comes out more as the beer warms and after repeated sips, but it never burns or becomes annoying. Believe it or not, I think this would be a great beer to have with spicy wings or savory beef. The best beer of the night!
RATING: 4.5/5.
There are two other beers on tap I didn't get to drink, though I have given a formal review to the 7 Mile Bridge IPA (which is a well done English-style IPA). Next time I'll give the Gilded Age Golden Lager a try. And yes, there definitely will be a next time because I really enjoyed my visit here. In fact, I feel like this review a little incomplete since I didn't get to try any of the food. For some reason, I couldn't tell that there was a food menu from looking at the website.
If Two Henrys/Keel & Curley winery was a little closer to me I would definitely be a regular here. I recommend taking a road trip here for anyone on the Tampa-to-Orlando I-4 corridor.