Where I live is a bit of wasteland when it comes to culinary culture, so it's nice to journey up to Orlando once in a while and check out the best beer and food locations. Ten 10 Brewing in the Mills 50 area of had been on my list of "Must-Try" breweries for quite a while. I've heard nothing but good things, so I finally got to stop by on Sunday and check it out. While it wasn't mind-blowingly amazing, it was definitely one of the better craft beer destinations I've been to in Central Florida thus far.
The atmosphere is very modern. Everything looks brand spankin' new, which is nice because it has a clean, sleek look. There's an L-shaped bar (~18 seats) in the center of the facility with the brewhouse to the right and a dining room (~25-30 seats) to the left. There are only a couple of TVs on one end of the bar, but no pool tables or darts or other typical bar games probably due to the lack of space. That's fine though, because while the taproom may be small, it never feels cramped.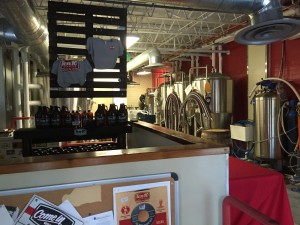 Havakow
(5.5% ABV, 15 IBUs): A classic, by-the-book milk stout. Sweet with a lovely chocolate finish but not cloying at all. Great dessert brew.
RATING: 4.25/5
.
Ivanhoe's Mango IPA
(7% ABV, 60 IBUs): I'm really over the whole fruit-infused IPA trend, but this one was actually pretty good. The mango seemed totally authentic in both the aroma and flavor; there was a juicy quality to the brew, though it was still plenty hoppy. I love it when microbreweries pull off a recipe like this.
RATING: 4/5
.
Black Bombers In the Night
(5% ABV, 15 IBUs): You don't see too many small breweries making black lagers (a.k.a. Schwarzbier). This one was pretty good; mild on the first half but finished with a nice roasted malt flavor.
RATING: 3.5/5
.
White Ryno
(5.5% ABV, 15 IBUs): A Belgian witbier with coriander and citrus flavors. It didn't say on the menu, but it seemed to have lemon, lime and orange peels. Body was rather thin considering the ABV. Not bad, but could've been better.
RATING: 3.5/5
.
Chronically Mismanaged
(6% ABV, 40 IBUs): My favorite beer of the flight. A hoppy red ale made with espresso. The dank resiny hops matched with the bitterness and coffee flavor perfectly. This is a versatile brew: a pint would pair great with savory food or with dessert.
RATING: 4.25/5
.
East West IPA
(7% ABV, 60 IBUs): A classic East Coast-style IPA (which seem to be a rarity these days). Huge pine and resin notes, a little green tea from the Centennial hops and a sweet caramel finish.
RATING: 4/5
.
Cosmic Corsair
(6.6% ABV, 60 IBUs): Described as a Belgian pale ale dry hopped with Galaxy and Cascade hops. I could smell and taste the Belgian esters which were nice, but I thought the use of American hops actually clashed with the base brew. Not that it was bad, and I definitely appreciate the originality.
RATING: 3.25/5
.
Dinky Line Project
(4.5% ABV, 13 IBUs): A great sessionable saison. Plenty of banana aroma and flavor along with a honey or mead-like taste on the finish. I'd recommend getting a growler of this for summertime refreshment at home.
RATING: 4/5
.
The food menu is a bit on the simple side: sandwiches, personal pizzas, and a few starters. There's nothing in the way of gourmet entrees, burgers, salads, or desserts. That's okay, because everything is moderately-priced; pretty much everything on the menu is $8 and the most expensive item is only $9! My friend Maggie and I headed here for dinner, so we got a soft pretzel ($4) with beer cheese ($2) to start. The pretzel is made with beer grain and it definitely has a genuine bready flavor. The beer cheese was nice; mild but very creamy. I ordered the Cheezy Buffalo Chicken Melt ($8) which is essentially pulled chicken with buffalo sauce. It wasn't quite as spicy as I was hoping. I will say it was plenty flavorful and enjoyable, though. I liked the roll, too. Maggie opted for the "D.H.W.V" (don't ask me what that stands for). It was kind of like a Cuban, but with roast beef and chicken. She liked it. Both of our sandwiches came with tortilla chips and salsa. The chips were good, but we dipped them in the leftover beer cheese since the salsa seemed like a very mild supermarket brand.
One piece of advice if you go to Ten 10: bring a sweatshirt or a jacket – the air conditioning blows very hard and it's very cold. It's like a server room in here!