In my
review of Brew Hub
back in July, I described the brewery as "one of Florida's most underrated breweries." In keeping with this theme, I would describe their second annual "Harbinger Fest" as an underrated beer festival. Considering it was a combination of local, regional and national breweries pouring unlimited samples in perfect weather at only $35 per person, I'm shocked it wasn't a complete and total madhouse.
My girlfriend Maggie and I were dropped off at the front entrance by an Uber. Little did we know you were supposed to drive around to the back, so we had to walk all the way around (some signs or arrows would've been nice). Since the event ran from noon to 6pm we opted for a 3:30pm arrival to avoid the crowd that tends to form when these events first open. I'd say the event was sparsely populated by the time we got there. No long lines, but still plenty of people in attendance so that it was far from a ghost town.
The tasting glass was a fancy 5oz flared snifter and not just a generic shotglass-type cylinder you tend to get at events like these. They also provided you with a lanyard cradle so you could holster your tasting glass in case you needed your hands free. I can think of many other events where I could've used one of these things. Anyway, let's talk about the beer.
The first tent closest to the entrance was Lakeland's own
Swan Brewing
– a brewery that's still in development and expected to open in downtown sometime in 2017. I had been familiar with Swan through
Facebook
but had not met their owner/brewer Dan Thumberg in person or tried their beers until Satuday. I have to say I was pleasantly surprised by how good they were. First I tried the
Champurrado
– a stout incorporating both chocolate and spices. This is a difficult combination of flavors to get to work well together, but they definitely did here. I was really impressed. Then I tried the
Pumpkin Piety
, which lives up to its name – liquid pumpkin pie. The fact this was so tasty and drinkable and that it was from a rookie brewery amazed me (even more notable considering how tired I've become of pumpkin beers lately). If Swan Brewing's beers are all this good when they open, I envision myself stopping by there often.
Interestingly enough,
Lakeland Brewing Company
was not in attendance. But another local brewery,
BrewPop
of Auburndale, was. I tried the
Caramel Graham
– a strong brown ale run through a
Randall
with vanilla beans and a whole bunch of other sweets. Owner/brewery Jerry Sowders said it was an attempt to make the beer taste like Boston Cream Pie. I didn't really get that; it just seemed like a bomb of sweet flavors that didn't really work. Maggie wasn't able to drink more than a sip or two because it was so cloying. I also tried the
Ying + Yang
apple/pear cider. I'm not a cider connoisseur (yet), so it was difficult for me to truly gauge this beverage. It was fairly enjoyable, slightly dry, but a beastly brew at 11% ABV. I've been to BrewPop in person a few times and I promise I will give the location and the range of beers an in-depth review someday.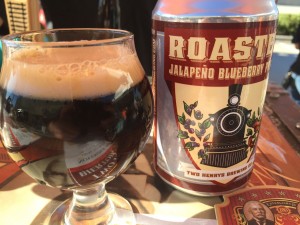 The only other local brewery in attendance was Two Henry's out of Plant City. I tried their
Roasted Jalapeno Blueberry Porter
, which I
had on tap at the brewery and loved
. It's not quite as amazing from a can but it was still really good. I salute them for taking a chance on canning such an unusual recipe.
As for the rest of the beer at the fest, I have to say it was pretty satisfactory across the board. Some were better than others, but I don't recall any stinkers. Many of the beers were from Florida-based breweries such as Funky Buddha, Orange Blossom, Barley Mow, Tampa Bay Brewing, Saltwater Brewery, Brew Bus, M.I.A. Brewing, Cigar City, and Coppertail. And most of those breweries had their people on hand pouring the beer and talking about it. I'm glad they did, because that kind of direct contract makes me appreciate the passion, creativity and hard work professional brewers endure. That they love doing what they do and will spend an entire Saturday pouring their beer for people who may or may not appreciate it is something I admire and respect.
Additionally, there were plenty of beers available from big name national breweries (e.g. Dogfish Head, Ommegang, Bell's, The Bruery, 21
st
Amendment, Ballast Point). I also noticed there were three St. Louis-based breweries (High Heel Brewing, 4 Hands Brewing, and Urban Chestnut). Based on their location, I wrongly suspected they were Budweiser products in disguise, but they're all actually independently-owned. In fact, Brew Hub contract brews High Heel's Slingback fruit ale and Too Hop'd To Handle IPA.
So how does the Harbinger Fest compare to other beer fests? While it's no GABF or TAP New York, I will say it's much better than the average festival presented by a wholesaler or general events promoter. It was a combination of everyday drinkers and enthusiasts like me, without catering to nor excluding either crowd. Anyone of any drinking caliber would be comfortable and have fun here. I was a bit surprised there wasn't a bigger crowd, especially considering how nice the weather was, but I was thankful it wasn't a madhouse either. I'll be back next year for sure.